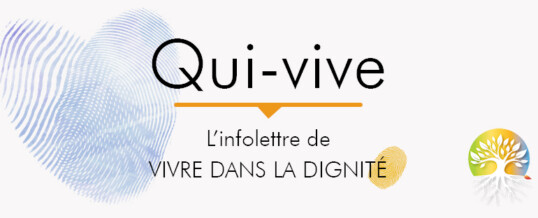 Dear VDD,
In the context of the difficult reality facing Quebec, like the rest of the world, Living with Dignity decided to produce a reduced Newsletter, along with an invitation. As you know, this is a time for solidarity.
Each one of us is called upon to take action, inspired by a heart that is attentive to suffering and eager to implement the mission of LWD: "to promote the protection of life, the inherent dignity and the accompaniment of people made vulnerable by illness, old age or disability".
Let us take courage!

FIGHTING AGAINST COVID-19
A paradox that invites reflection
Since the arrival of COVID-19, we have been in a state of turmoil of unprecedented magnitude. In order to protect ourselves against an avalanche of cases that could overwhelm health resources, measures of enormous scope and astronomical cost are being taken. Everyone is forced to take restrictive health measures to protect themselves and others, reducing contact between people and thus the speed of disease transmission.
And we are collectively respectful of the binding guidelines that serve this health strategy, despite the difficulties and sacrifices they entail. This is a strong response to an aggression of global proportions. And we are opening up hospitals, intensive care units and clinics to all, automatically putting caregivers at risk.
What a shining demonstration of our respect for the lives of others, of all others, especially the elderly, the sick and the immunocompromised, who are often the first victims of this virus! I see this as an irrefutable sign of our strong shared perception of the intrinsic value of life. We want to protect it, to heal it, even to isolate it temporarily, in the hope of recovering it again together in renewed freedom.
Is this the same society that yesterday promoted the voluntary end of life, death administered by caregivers? Is it the same society that found that life gradually lost its value with the constraints of illness and with physical, mental or social limitations, with suffering? And that it was then appropriate to agree to shorten it on request, even if the end of life was not foreseeable in the short term?
You will tell me that these are different situations! And yet… There is a contrast here that requires us to reflect. If we must treat, we must treat everyone. We should not choose who we treat and who we abandon. We should not decide who may possibly heal, and therefore deserves our care, and who may not. But isn't that basically what we're doing by agreeing to help someone die on demand without knowing their future? Should we not examine this paradox and draw a new caution from it?
Patrick Vinay, M.D., PhD
President
Living with Dignity
Share