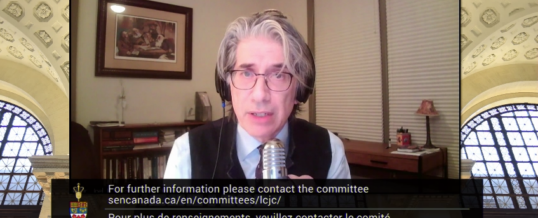 UPDATED – When the Senate of Canada were studying Bill C-7, its members have been presented with radically different expert views. Based on his study of autopsies of criminals executed by lethal injection in the United States, Dr. Joel Zivot has stated that an assisted death "could be extremely painful and more akin to drowning".

We invite you to read the disturbing testimony of Dr. Zivot (Canadian citizen, Associate Professor of Anesthesiology and
Critical Care at Emory University in Atlanta) who made the headlines thanks to Joan Bryden of the Canadian Press https://www.ctvnews.ca/health/doctors-offer-duelling-views-of-what-it-s-like-to-receive-an-assisted-death-1.5293497.

His testimony:



You can listen to all his interventions at 18:31:57, 18:59:23, 19:17:30, 19:32:21 and 19:48:33
https://senparlvu.parl.gc.ca/Harmony/fr/PowerBrowser/PowerBrowserV2/20210202/-1/9950. Dr. Timothy Holland's opposing viewpoint is available at 19:07:12 and 19:17:30.
Contacted by Living with Dignity, Dr. Zivot shared
a summary of his presentation:
"Medical Assistance in Dying, by design, conceals the internal experience of dying from the observer. Death by MAiD is fundamentally the same protocol as execution by lethal injection in the United States with one important exception. MAiD includes the injection of a paralyzing drug that will block the capacity to move or breath but will not block the potential awareness by the dying person. Lethal injection in the US has generally abandoned the use of the paralytic because of the obvious cruelty. All MAiD deaths will have the outward appearance of no struggle. MAiD is death by drowning or strangulation."

Dr. Zivot's research here meets with radical opposition from MAID providers. However, the worrying points raised by the specialist cannot be dismissed with a wave of your hand. If there is the slightest possibility that medical aid in dying is not the peaceful experience that its advocates promise, it is the responsibility of federal and provincial policy makers and Colleges of Physicians to explore the issue further in the coming months. Beginning by requiring autopsies of people who have died by MAiD.

Unless we can conclude beyond a reasonable doubt
that Dr. Zivot's major concerns do not apply here, our political leaders must put a stop to the expansion of access to euthanasia in Canada. The current uncertainty demands increased caution and, therefore, significant amendments to Bill C-7.

Read Living with Dignity's C-7 brief: https://vivredignite.org/en/2020/11/submission-c7/

More information

UPDATE FEB. 19 2021:
Response to senators by Dr Zivot
https://sencanada.ca/content/sen/committee/432/LCJC/Briefs/Brief_DrJoelZivot_e.pdf
Op-ed in MEDPAGETODAY
https://www.medpagetoday.com/publichealthpolicy/ethics/91214


The NPR investigation mentioned by Dr. Zivot
https://www.npr.org/2020/09/21/793177589/gasping-for-air-autopsies-reveal-troubling-effects-of-lethal-injection

His TedTalk:
Share